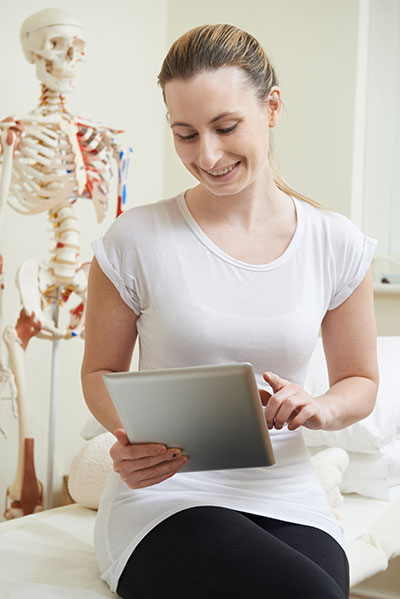 HOW ARE THE EXAMS PERFORMED?
Exams are performed using TeleEMC telemedicine services. TeleEMC is a secure, HIPPA-complient video platform.
ARE TELEMEDICINE EXAMS RECOGNIZED BY THE INSURANCE COMPANIES?
Yes. The Florida Administrative Code & Florida Administrative Register established Rule: 64B8-9.0141 of the Florida Department of Health on January 6, 2006. Since that time, the use of telemedicine services has grown and accepted form of medical examinations.
DOES MY PRACTICE NEED ANY SPECIAL EQUIPMENT FOR A TeleEMC?
TeleEMC provides a FREE iPad for patients to register on, to perform the exam on. For chiropractors that wish to use their own in office hardware TeleEMC exams can be performed on any PC or Laptop that has a webcam and a microphone. Please contact us for more details.
HOW DOES MY PRACTICE GET SET UP FOR TeleEMC?
TeleEMC makes the process easy, just click here. THERE IS NO CHARGE TO JOIN TeleEMC. Setting up your profile takes less than 2 minutes.
HOW DO I SCHEDULE A TeleEMC?
I have a TeleEMC configured iPad simply click here.
I do not have a TeleEmc configured iPad for patient registration:
Step 1) Have the patient complete the following registration documents prior to scheduling the appointment: click here.
Step 2) Fax patients registration documents to TeleEMC and then proceed to schedule the patients EMC exam by completing the following: click here.
Step 3) Go to a laptop or PC that the patient has access to, and please insure the hardware is connected to the internet, and is enabled with a camera and mic. Then go to the e-mail that we have sent you confirming the patients appointment, and click on the orange button to start TeleVisit.
HOW QUICKLY CAN I GET A TeleEMC SCHEDULED FOR MY PATIENT?
TeleEMC makes scheduling as easy as one, two, three please click here to make an appointment. TeleEMC's can be scheduled ON DEMAND and we will try to accommodate same day appointments. Our office will confirm these appointments via email within 20 minutes after submission.
WHAT KIND OF DOCUMENTATION DO I NEED TO PROVIDE FOR MY PATIENT'S TeleEMC?
The day of your patients TeleEMC exam, please email or fax a copy of your initial examination and any supporting documentation, such as patient demographics or diagnostic imaging reports. For chiropractors that are NOT using TeleEMC provided hardware, please click here to download patient documentation to be completed prior to visit. Please fax a copy to us at (866) 324-4956
CAN PATIENTS USE THEIR OWN DEVICES OR DO THEIR TeleEMC AT THEIR HOME?
Unfortunately, patient's cannot establish the required provider credentials through TeleEMC. Their TeleEMC can be administered during their next scheduled visit within the comfort of your office
WHAT IS THE CHARGE FOR A TeleEMC?
There is never a charge to your practice for a TeleEMC, we bill the insurance companies directly.
ARE TeleEMC's OFFERED IN SPANISH OR OTHER LANGUAGES?
Fortunately, because TeleEMC exams are administered within your offices, you can utilize your existing staff or we can use our translation services.
CAN YOU PRESCRIBE MEDICATION DURING A TeleEMC?
We do not prescribe any medications during a TeleEMC consult.
CAN MINORS RECEIVE AN EMC?
Yes, please click here to complete the Minor Authorization form. The authorized adult signing this form must complete all of the patient registration documentation (including but not limited to injury questions, health review of systems, and all 4 signed consent, release and privacy documents which may be completed via the ECW kiosk on the iPad). Please fax form to: 866-324-4956.
WHAT TEXT MESSAGES WILL MY PATIENTS SEE FOR HOME VISITS?
A patient who schedules a Home Visit will receive 3 text messages.  The first message is sent as soon as the appointment is scheduled.  This message will contain a link to complete a mandatory patient form.
The second message is sent 48 hours prior to the scheduled appointment and may contain a link to complete the mandatory patient form only if it has not yet been completed by the patient.
The final message is sent 45 minutes before the scheduled appointment and will likewise contain a link to the mandatory patient form only if it has not yet been completed by the patient.
First Message:
"(Patient Name), this message is being sent on behalf of your chiropractor and/or MRI center.
"This is a required at-home telemedicine EMC evaluation scheduled for (date, time).
"Please click the link below to complete the mandatory patient documents
"https://hipaa.jotform.com/223016145276147"
"Please call TeleEMC at (866) 611-4362 with any questions."
The actual link provided to the patient is customized to link to a form which is in English, Spanish or Kreyol depending on their selection, and partially filled in with their information.
The second message, delivered 48 hours prior to the appointment, is identical to the first message, however it will omit the link to the form if the patient has already filled it out.
Third Message:
"(Patient Name), please reply YES to confirm your TeleEMC appointment at (date, time).
"Your chiropractor and/or MRI center require this EMC evaluation.
(include link to form if not already submitted)
"To reschedule this evaluation click here: https://teleemc.com/reschedule2/
"Please click here to start TeleVisit: https://doxy.me/drknockers (example)"
Hours
M-F 8am - 7pm
Sat  8am - 4pm