TeleEMC is a telemedicine service that provides PIP determinations in Florida online, using experienced EMC doctors. It is safe, fast, COVID-friendly, and more profitable for the average chiropractic specialist.
We started TeleEMC to help chiropractors profit more while also serving their patients better. We consider ourselves as dedicated to your success as you are. But with the latest chiropractic industry statistics indicating that there are at least 5,500 chiropractors in Florida, success is going to require more than a state of the art EMC service. It's going to require marketing.
Your specialty is chiropractics, not marketing, which means that chances are you could use a bit of chiro marketing advice. We've created this guide to chiro marketing to help you learn more about the field and start finding ways to set yourself apart from your competitors. If you would like to learn more about our services here at TeleEMC, give us a call at 866-611-4362 at any time.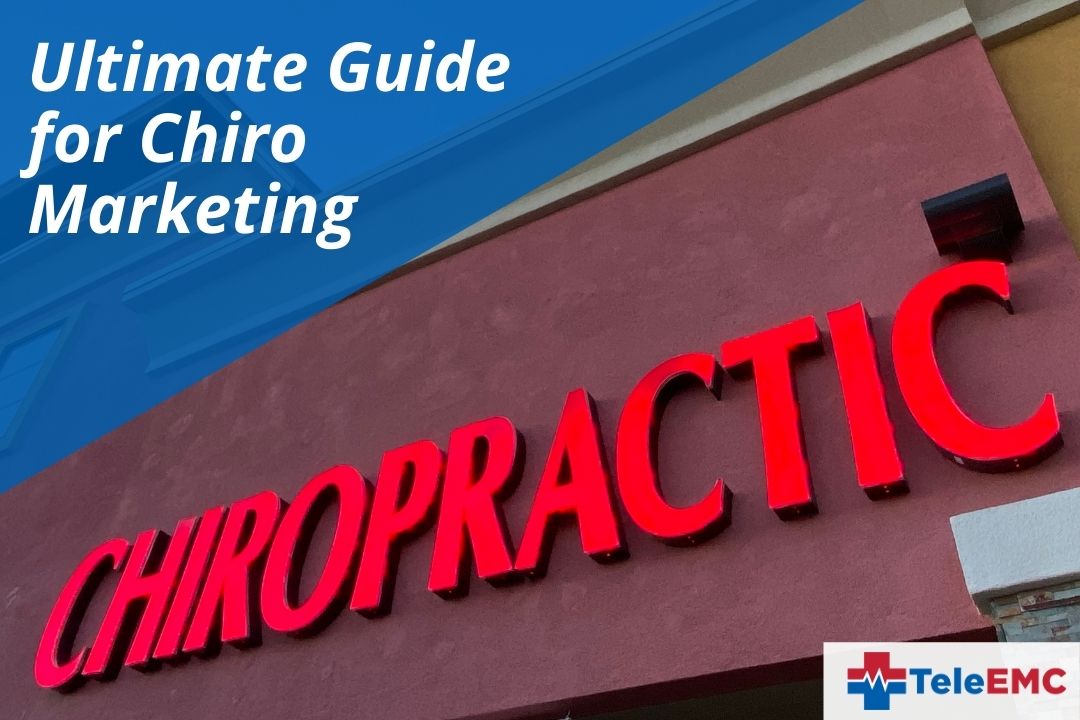 Before You Start: Take the Time to Discover Your "Why"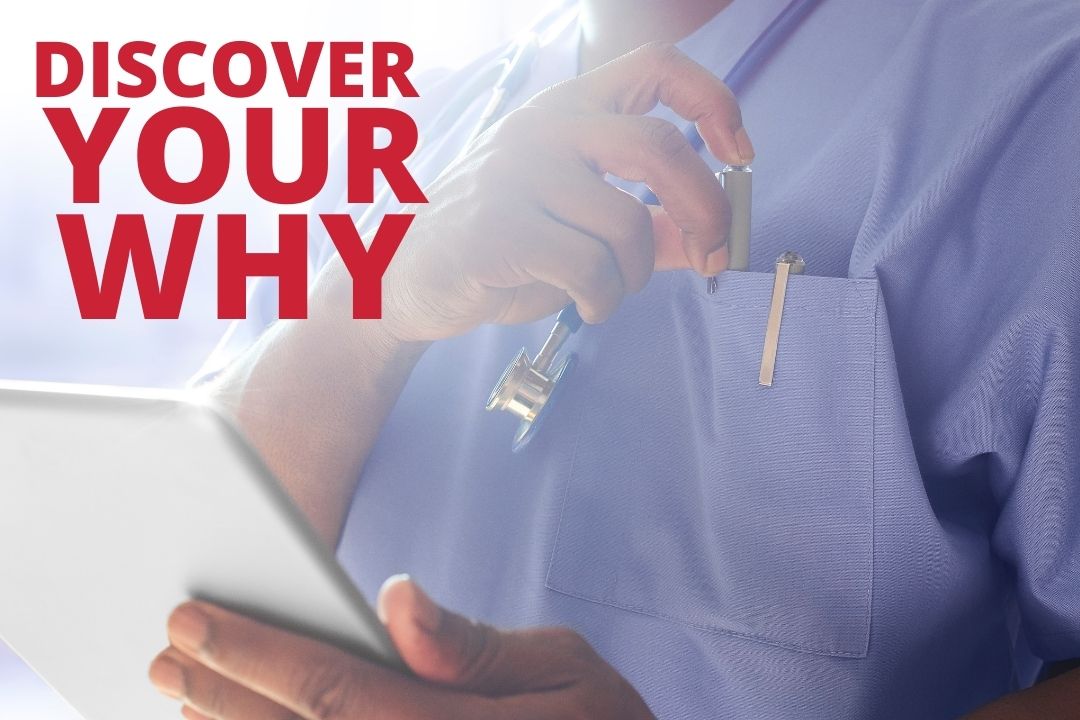 Long before you begin the marketing process – and before we address marketing strategies within the chiropractic field – you'll want to discover your "Why."
Your Why is the answer to the question: Why should someone choose you?
The average patient knows nothing about the science of chiropractic care. They know nothing about which universities offer better training, or whether or not experience matters in the field. Your patient is hurting, and they need to choose a chiropractor, and somehow they have to figure out which chiropractor is going to offer them the best quality care. They need to know why to choose YOU.
The best way for you to succeed is to have an answer for them.
Now, this answer doesn't have to be tangible. In fact, the way you market yourself could be the answer. Chiropractors that invest in high end websites with engaging content and video can build trust with the reader, helping them feel more at ease with your services over someone with no website, or with a website that looks like it was created in 1993. We'll discuss this more later.
It helps to think about what you can offer that other chiropractors can't.
Here are two approaches finding your "Why." First, You can go the generic way, which involves using descriptive terms that accurately reflect your service quality. For example:
Patient-Centered Approach
Decades of Expertise
Friendly Staff
Affordable Cash Rates
These are fine. They're not great, because any chiropractor can claim to offer those things even if they do not, but they at least help you guide not only your marketing, but also your practice. If you are struggling to come up with anything more specific, those are perfectly reasonable, although you will want to make sure that you live up to those standards.
The other method is to offer something that the patient can experience – something that makes them feel that they are benefiting from choosing your service:
Free Massage Upon Completion of Treatment
After Hours Service if Needed
Same Day or Next Day Appointments
Foosball in the Waiting Room
Post-Appointment Freshly Baked Cookies
You don't need to go with this more specific approach for your chiro marketing to be successful. You just need to determine what your "why" is and then make absolutely sure that you stick with it. It's what will help you build a brand for yourself, get referrals, and help patients figure out why they should choose you over other chiropractors available.
Many chiropractors use our service here at TeleEMC as part of their "why," because they can offer same day EMC determinations for PIP patients which helps them get better treatment. It's another way that you can offer more than other chiropractors in the market. 
Using Marketing to Express Your "Why"
As mentioned, your marketing tactics can also be how you prove to people that you are worthy of their business. Many chiros use social media to engage with potential patients and build a brand as someone that is personable, knowledgeable, or funny. Others create vivid and professional websites that are so high quality that they give the impression of value and care.
So there are ways you can use marketing tools as your way of standing out. But even within those tools, you should still have a way to prove to patients that choosing you was the right decision.
Because patients come to you in pain – pain that often takes time to eliminate – being a generally good chiropractor is not enough. There are lots of good chiropractors. Try to find what makes you different, and better.

Chiro Marketing – Ideas, Strategies, and Effective Approaches
The vast majority of chiropractic marketing these days takes place online, and it's not even necessarily that close. It's also not hard to see why businesses should focus on the internet. It's not just that chiropractor marketing on the internet offers better value or reach (though both of those are true). It's also that it simply addresses the needs and urgency of the patient.
Imagine if a patient is in a minor car accident. They're hurting, they're shaken, and they need someone now. They're not going to sit there, waiting in pain, until they receive a mailer from a local chiropractor that appeals to them. They're going to take out their phones and immediately search for chiropractors near them, they're going to look at a few, and then they're going to make a call.
All of that takes place online.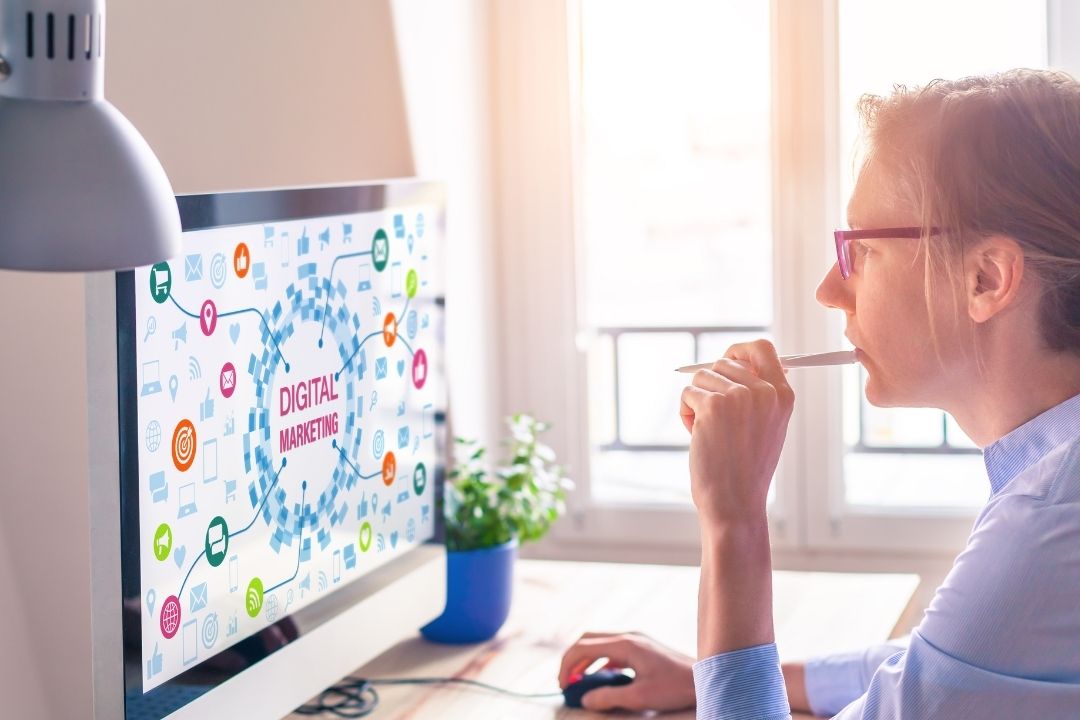 Lots of chiropractors take out advertising in magazines, or send out post cards, or rely solely on word of mouth. All of those chiropractic advertising strategies are fine, and will likely earn you business, but they do not take into consideration the urgency of the patient or the level of familiarity a patient has with you when they have minimal exposure to your brand.
The patient wants someone now. You want them to find you. That takes place almost entirely online.
In some cases, they'll call someone they've seen before. They'll see a list of names and photos, or websites, and they'll say "that one looks familiar" because they've seen you on their Facebook feed, or because they've seen you in an online video, and they'll call you.
In other cases, you're the one that shows up first. Or the one that has the best reviews. They may not have heard of you in the past, but they'll see what you offer now, and they'll be impressed enough to give you a try.
That exposure may not be exclusive to the internet, but it still relies on it. Even if you've purchased a billboard, visible from the street, that future patients pass every day, they're still going to Google "chiropractors near me" or some variation of that key phrase, and if your name doesn't show up, you're not getting the call.
The internet may not be the only place to advertise, but it is perhaps the most critical one.
So how do we market online?
Website Marketing
Social Media Marketing
Videos and YouTube
Adwords, PPC, and Other Paid Ads
More
The internet often seems like a scary place. But it's also your single best tool to reach the widest number of people at a time when essentially all potential patients will use the internet to find the help they need.

Website Marketing – How it Works, What it Is, Why It's Necessary
Every chiropractor needs a website. It's a non-negotiable, critical tool for chiro marketing. Even the existence of a one page, boring website is better than no website at all.
That is because there are essentially zero situations where your website will not be used to make a decision about whether or not to contact you. Even if you're recommended to someone via word of mouth, or from an advertisement someone sees in a magazine or on a park bench, almost all of them will search for you, your name, or your business to make sure you feel like a real person that can be trusted with their care.
But the existence of a website, while it may be enough to help you with your business, is not necessarily going to get you MORE business. For that, you need website marketing.
When we talk about "website marketing," we are primarily talking about marketing your website in such a way that it shows up for searches on search engines – usually Google, although there are other search engines that respond to similar marketing techniques.
For example, as of this writing, when someone searches for "Miami Chiropractor," after the advertisements (which we'll talk about later), we first get to a map that has another ad and 3 results: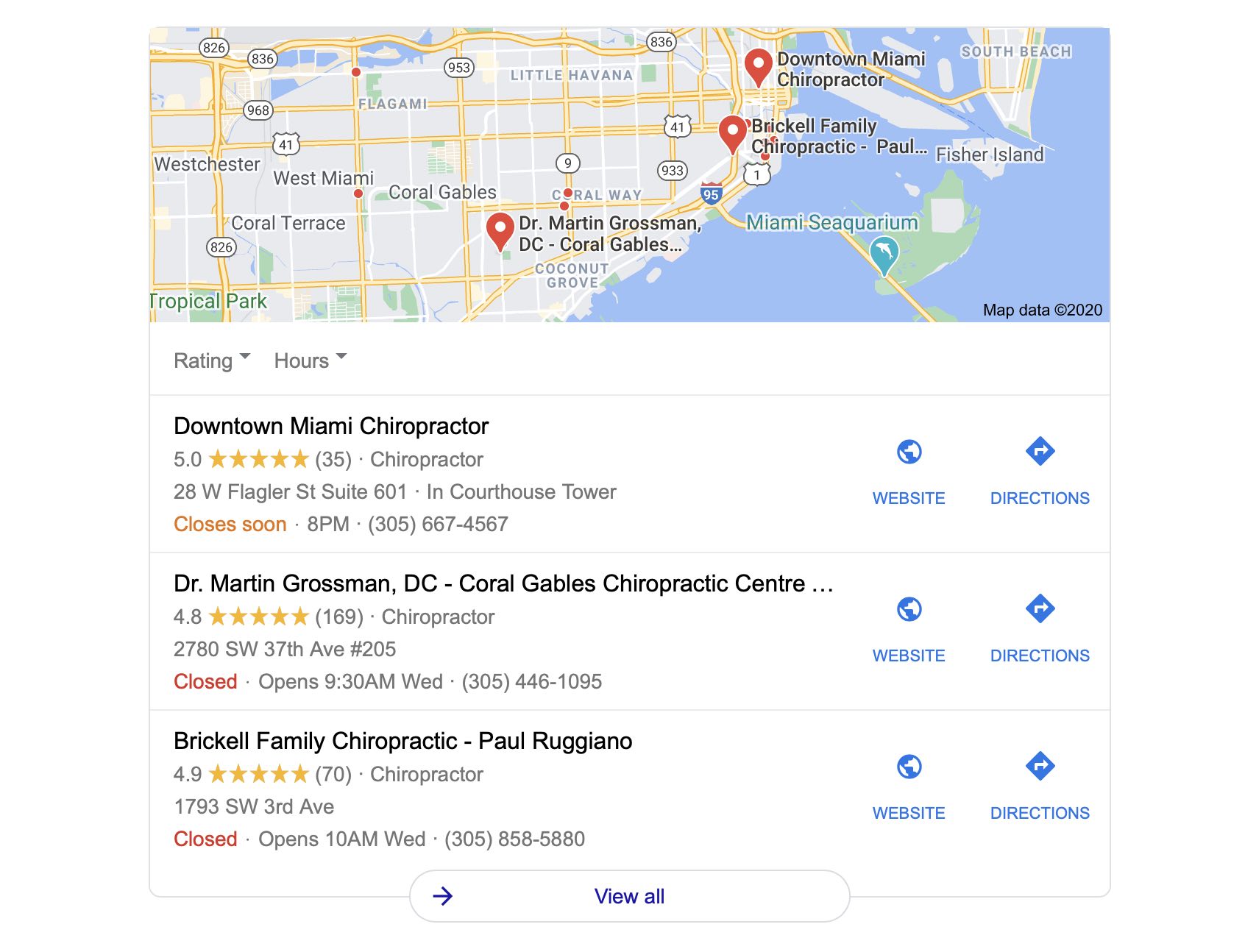 You see Downtown Miami Chiropractor, Dr. Martin Grossman, and Brickell Family Chiropractic. Those three chiropractors are going to get more calls than ALL other chiropractors in the area.
We also know, for a fact, that the higher you are in the list (ie, Downtown Miami Chiropractor ahead of Dr. Martin Grossman who is higher than Brickell), the more calls and clicks you receive.
Study after study has shown that these three chiropractors will receive more clicks and visits than any other chiropractor website, and – like with maps – the higher you are in the search, the more clicks you receive. If you're on page 2 for this search, your chances of getting a visit to your website and a new patient are often less than 1%.
Thus, if you want to succeed, you need to show up for the search terms that a potential patient may search for, and you need to be as high as possible for the search term so that you're the first person that these individuals contact.
"But isn't that a lot of work?"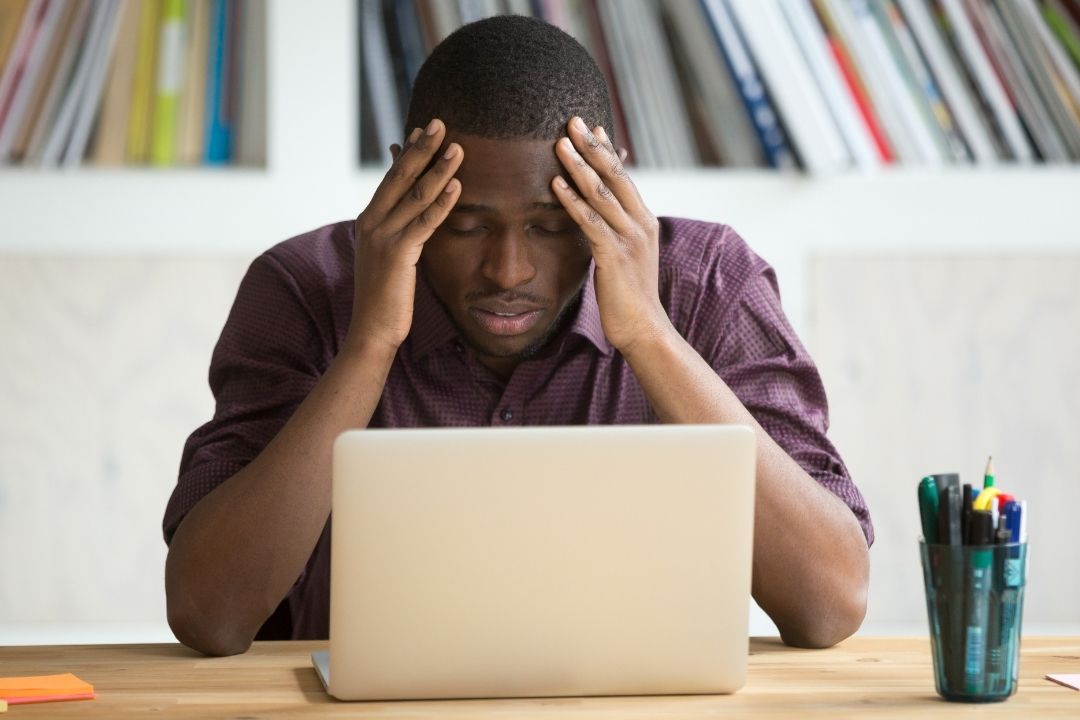 Below the map, you'll also see the search results: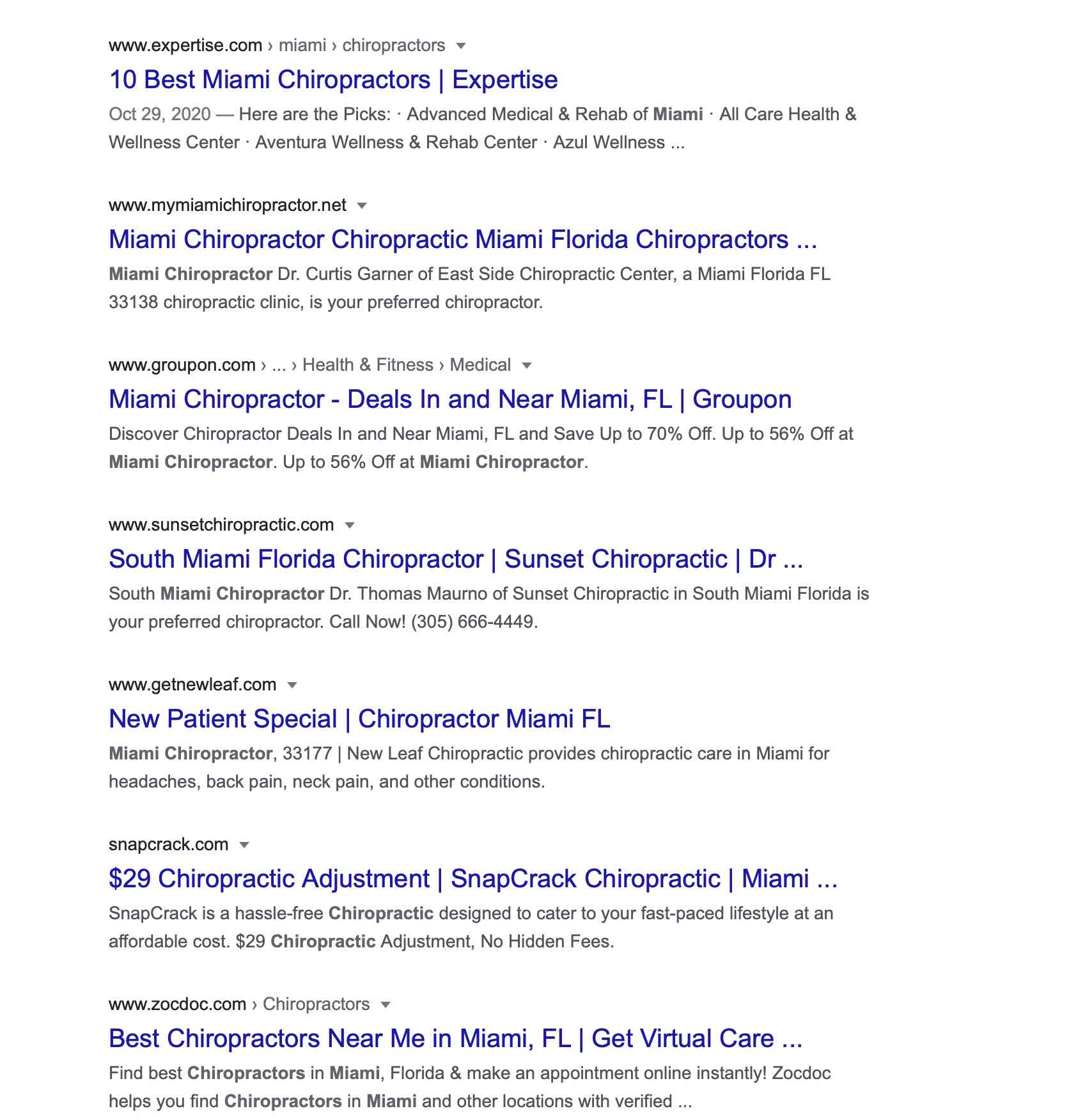 Maybe! It depends on where you're located in Florida, how much your competition has marketed, and more. But one thing to understand is that, every month, the term "Miami Chiropractor" receives over 1000 patient searches a month. Variations of that keyword and other, related search terms (like "back pain help Miami) receive dozens to hundreds of additional searches as well. It takes only a small percentage of those searches to become patients to pay for your investment and then some.
So how do you do it?
How do you show up higher than all of your competitors for the search terms you want most?
There is some complexity here and some luck. You may want to contact an online marketing specialist to help. We at TeleEMC are happy to recommend some to you, as this is an industry that is also prone to some less-than-reputable businesses.
But the following are some of the techniques that these companies use to help you thrive in search results: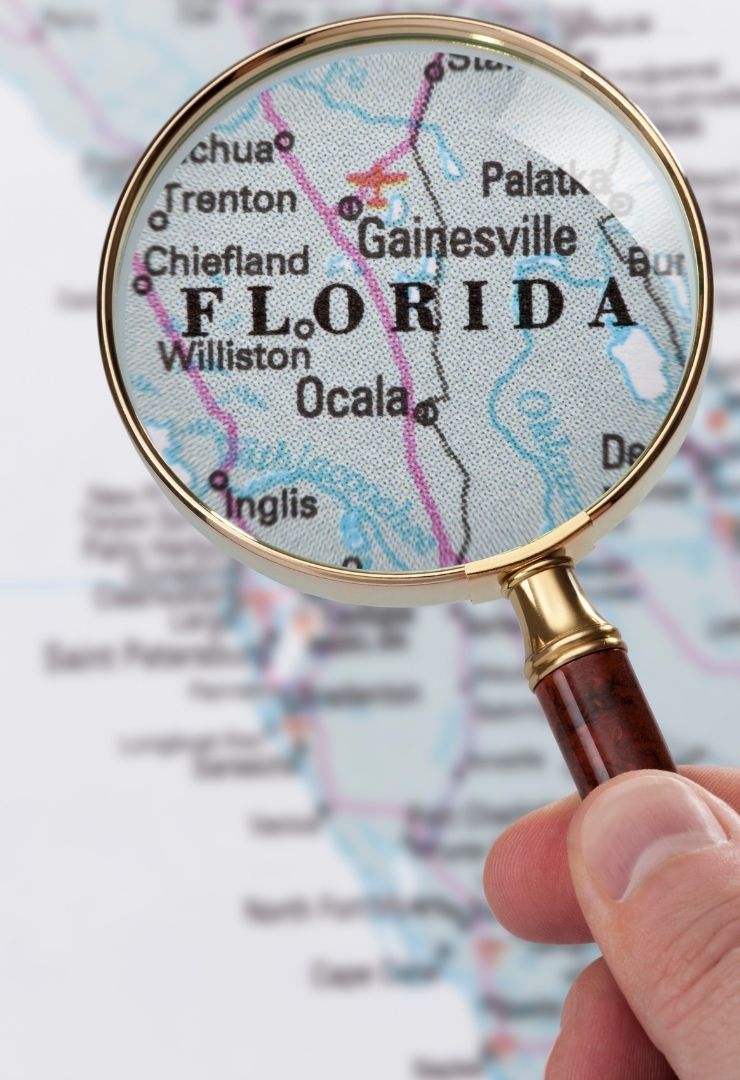 SEO-Based Unique Content Writing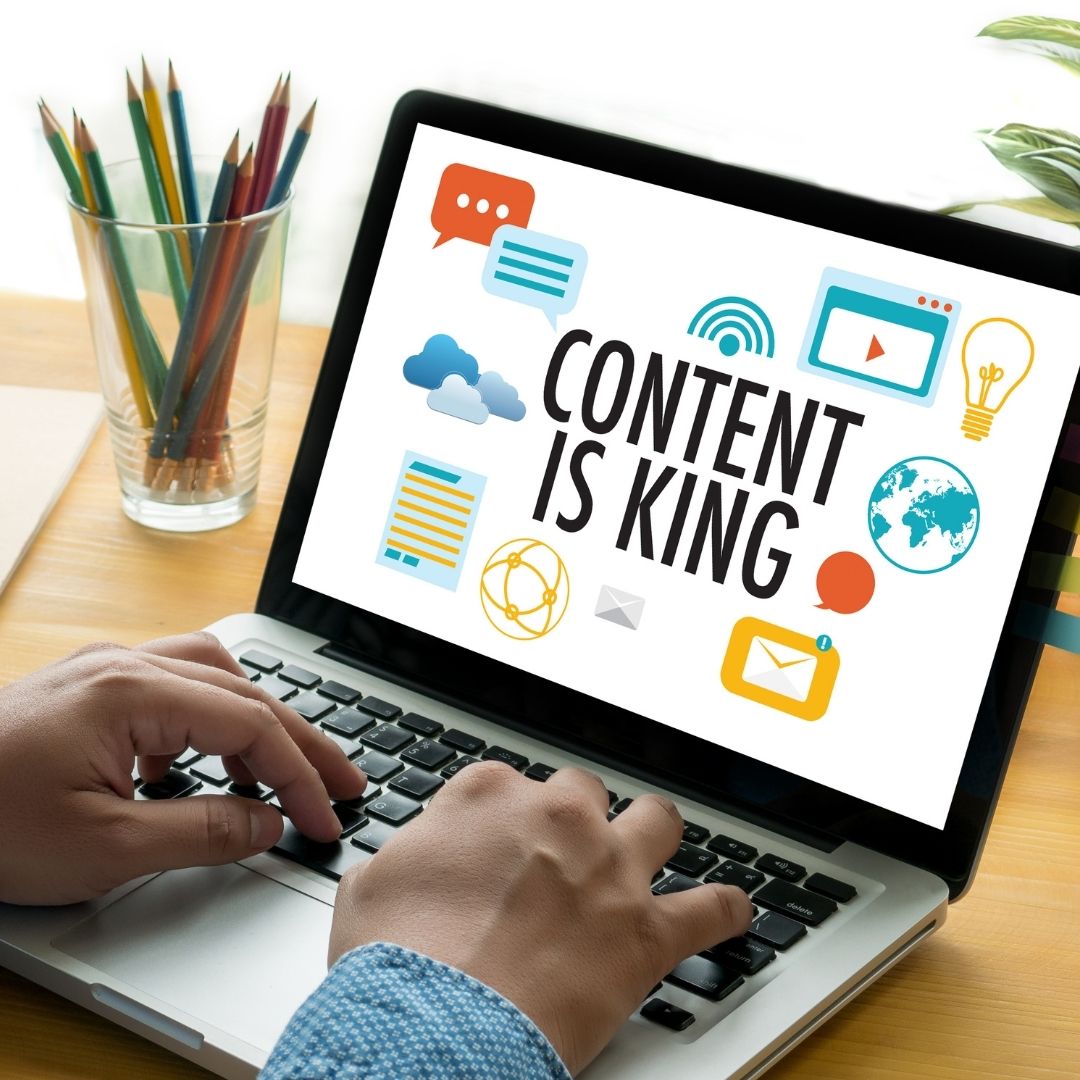 The blanket term for helping your website improve its search engine ranking is "Search Engine Optimization," or "SEO." There are other terms as well that refer to similar or related techniques, like "inbound marketing," and "content marketing," but "SEO" is the most broadly used term, and so it's the one we'll focus here in the writing.
Google uses an algorithm that looks for "signals" that a website is relevant and trustworthy, and thus should show up higher for a specific search. The algorithm looks to answer the following questions:
Does this website have information I think is relevant for the person using the search term?
How trustworthy is this website or company?
Are there any other websites that this user might be looking for?
It uses complicated math that uses online data to determine the answers, and if your website seems more relevant, it will show up higher.
One of the first and most important factors it uses to determine this is the content on your website – usually in the form of writing (much like this page that you're currently reading), although images, video, and other content can also play a role.
Websites that have a lot of useful, engaging, high quality content that has been developed specifically for your website send more positive signals to these algorithms than poorly written content, stolen content, or content that is too brief to be useful.
There are many ways to do that, but in the world of chiropractic marketing strategies, you should have:
Pages on your site that talk about your different services and techniques, to help someone learn more about what you provide.
Pages on your site that talk about what you can help with, from auto accident recovery to lower back pain to rehabilitation, and more.
Pages on your site that talk about who you are, and why they should choose you, and so much more.
Any piece of content you write should be useful, interesting, and potentially "SEO Oriented," which in this case means writing the content in such a way that it could potentially answer someone's question in a search.
It should have location keywords, so that search engines and readers know where you're located, and it should have selling points like "next day appointments available" and "in-house EMC doctors with instant PIP determinations" to patients stay on your page longer and ideally fill out a form or make a call – both of which are also signals to Google.
Chiropractor content writing is a process, and involves strategy. It can also be time consuming, so contacting a chiropractor content writing company or online marketing specialist is a potentially good idea, as they can help with blog posts, location pages, and other types of content writing that can be researched and managed by someone with experience.
But no matter what, content writing is a critical part of rising above your competitors with your chiro marketing plan – not only because it helps in search engines, but because it increases the likelihood that if someone finds your website – from ANY medium – they'll be more likely to find you interesting and contact you. That makes content a must-do.
Improving Website Engagement
As hinted at earlier, another reason that content writing is so valuable is that it improves engagement:
It improves the time someone spends on your website.
It improves the chances that they click on another page on the site.
It improves the likelihood of a conversion (an action that they take to contact you).
Google, and other engine algorithms, measure the time that someone spends on a site in order to determine how useful it is. When someone spends more time on a site, clicking more pages and reading more content, it tells search engines that your website is likely useful, and that they should consider ranking you higher than other websites that someone doesn't engage with as much.
But that is not the only way to improve engagement, and the more you can do to improve how long someone spends on your website, the better your ranking will be. Some of the chiro website strategies that you can use include:
Increasing website loading speeds, so that users have a better experience.
Providing a more attractive website design, improving professionalism.
Integrating custom chiropractor marketing videos, so that people are spending time watching things on your site.
Creating long form content about very interesting topics, so that not only do you have unique writing, but you also give them something they genuinely want to keep reading.
Linking to other pages on your site that may be interesting to them based on the page they're reading, so that they're not ready to leave yet.
Giving them an action that has value, like signing up for a newsletter.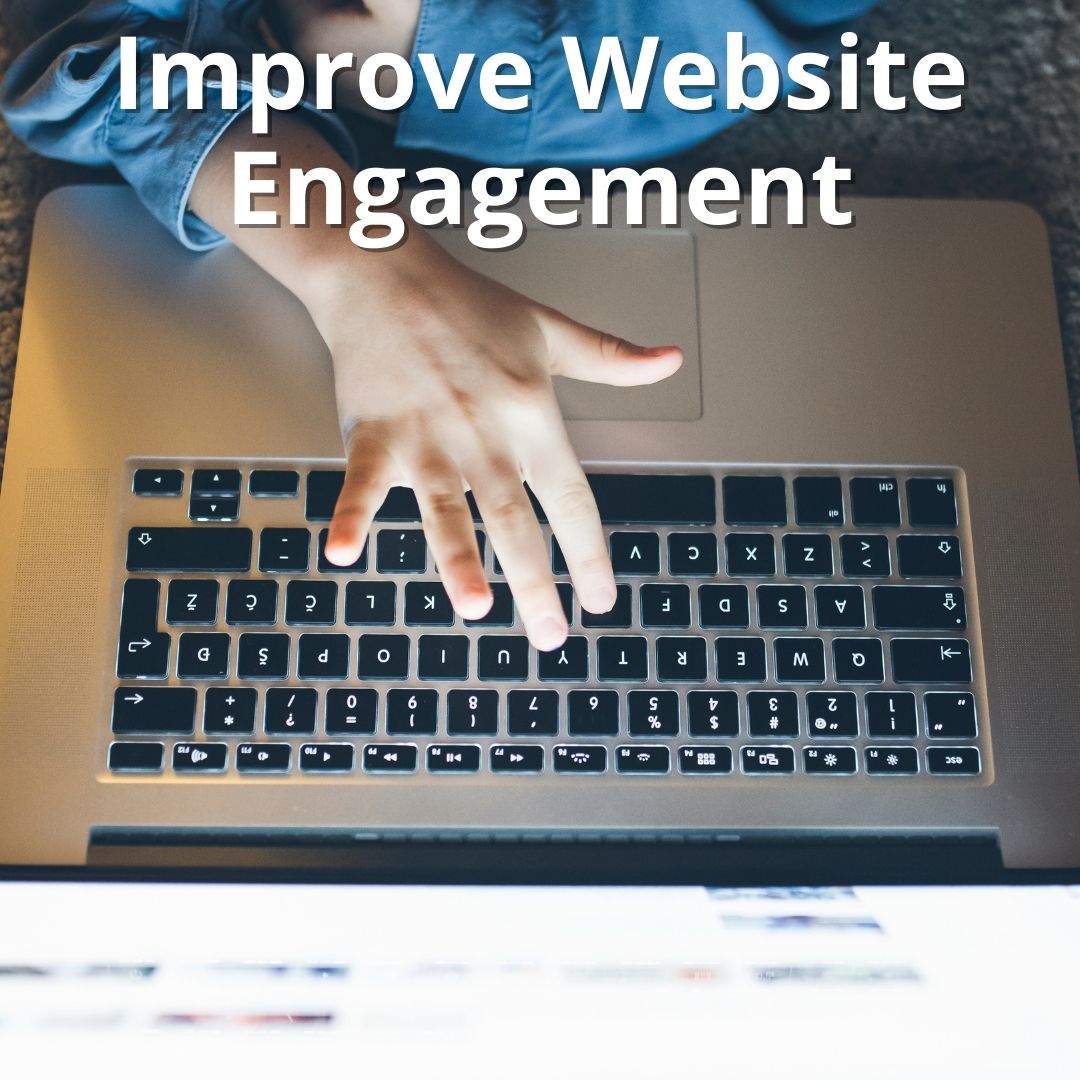 This is another area where knowing what separates you from others can be beneficial (your "why"). For example, TeleEMC offers PIP determinations by trained EMC doctors, and works with chiropractors to improve their value to their patients while also increasing their profit margins. Patients in Florida that have been injured are looking for someone that can provide them with better, more convenient service.
By using clear language to explain what it is to your patients and why it makes their experience better, you keep them interested as they read on, helping them stay engaged and keeping them on the site longer.
These are all ways that you can increase website engagement and, ultimately, improve your success in boosting your chiro SEO.
Plus, studies within the marketing world have shown that the longer someone spends on your site, the more likely they are to become a patient – not only because it means they found something worthwhile, but also because that exposure to you and your brand helps build trust. So taking the time to work on your website engagement tactics can be extremely beneficial in more ways than one.
Get Links From Other Sites
As we mentioned earlier, search engine algorithms like Google's give your website a trust score. The trust score is based on several factors, some of which are out of your control:
How long your site has existed (the longer the site has existed, the more it is trusted).
What URL you use (complex, unrelated URLs are a warning sign of possible spam).
Your online reviews (it's a small effect, but better reviews are better for ranking).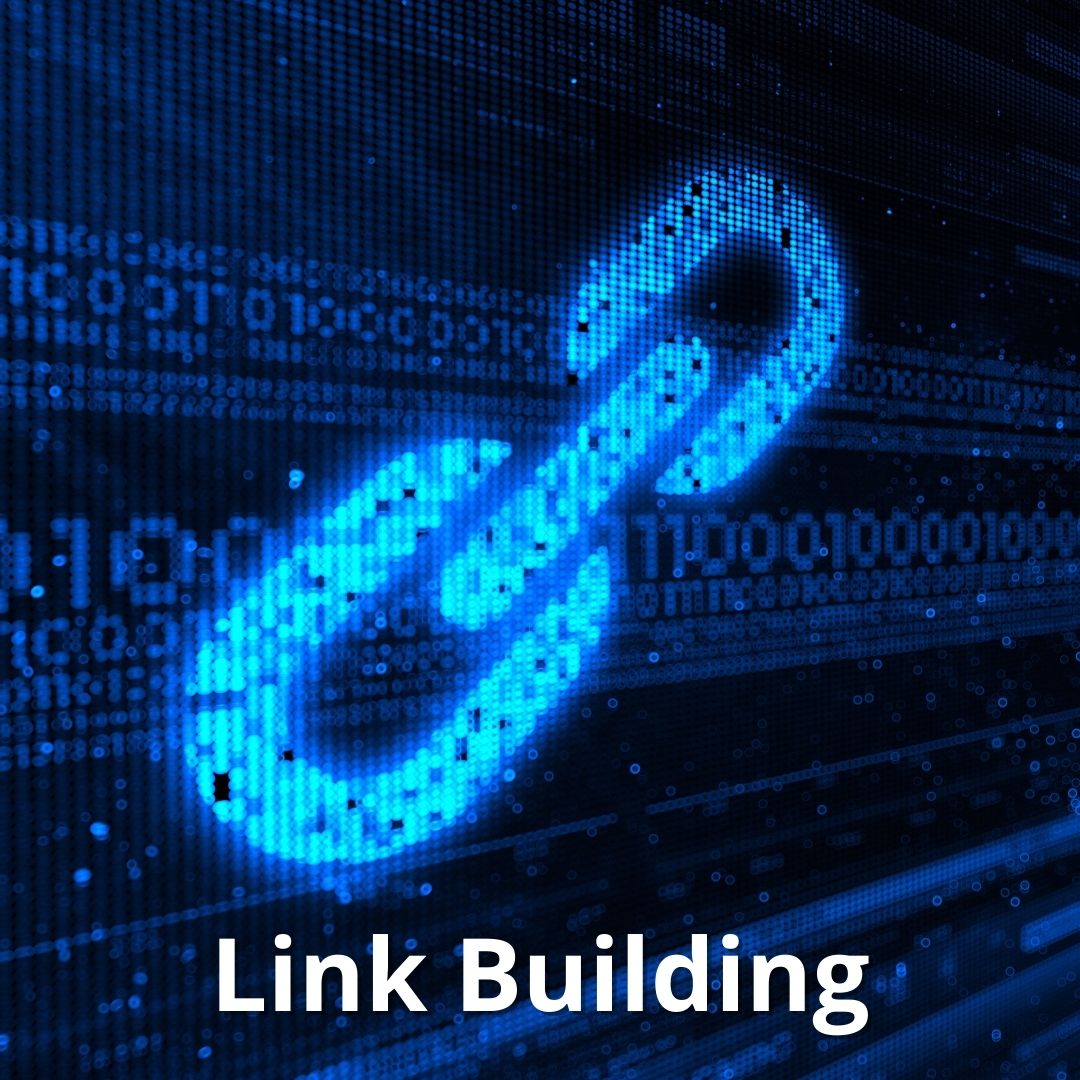 But there are some components that are [somewhat] within your control. Google's algorithm looks for signals that your website is one they can trust. One of those signals comes from when another site decides to link to your site, a process called "backlinking," especially if that site is also considered trustworthy.
It's not unlike how we make decisions in real life.
Let's say YOU were looking for a new chiropractor. If an odd stranger showed up at your door and said "hey, use Dr. Jane Smith, she's great" you would probably not only ignore the recommendation, but you may even be less likely to go to Jane Smith, because the recommendation was sketchy and uncomfortable.
But if your best friend, whose judgment you trust, comes up to you and says "I strongly recommend Dr. Jane Smith, she's great" then chances are you're going to call Dr. Smith, because someone you trusted recommended her.
Google works the same way. If someone on a trustworthy site decides to link to your site, Google assumes that that person would never have linked to you if you weren't worthy, and so it gives you a signal boost. Enough boosts, and you rise in the search engine ranks.
How do you obtain backlinks?
There was once a time that you could pay someone to post your link on their site, or pay someone to email 10000 blogs and hope that a few of them say yes. Those strategies do not really work as well anymore. Instead, you can try the following:
Ask colleagues in your field if you can write a few guest posts on their existing website.
Join the Chamber of Commerce and other local online organizations.
See if you can be featured in an online magazine or newspaper.
Write up a press release and give it out to news sites.
Contact useful, relevant websites either in your field or local area to see if they'd accept content written by you on a topic of interest.
Write extremely useful content on your own site and promote it, hoping that other bloggers or news sites link to it, giving you a backlink naturally.
One really fun way to get a link is to volunteer for local organizations, and hope or ask that they link to your site in write ups on the event. It's a great way to do good for the world while also helping your search engine ranking.
Obtaining useful backlinks in an effective way is harder than it used to be. But it is still possible, especially if you're willing to go outside of your comfort zone and try to find ways to get people talking about you.
There are other SEO strategies you can use as well to help you with your chiropractor website marketing, and as you move forward, it's worth looking into tactics like schema, meta descriptions, and more. But if you can at minimum use the above three marketing strategies, you'll find that your online visibility will improve considerably.

Social Media Marketing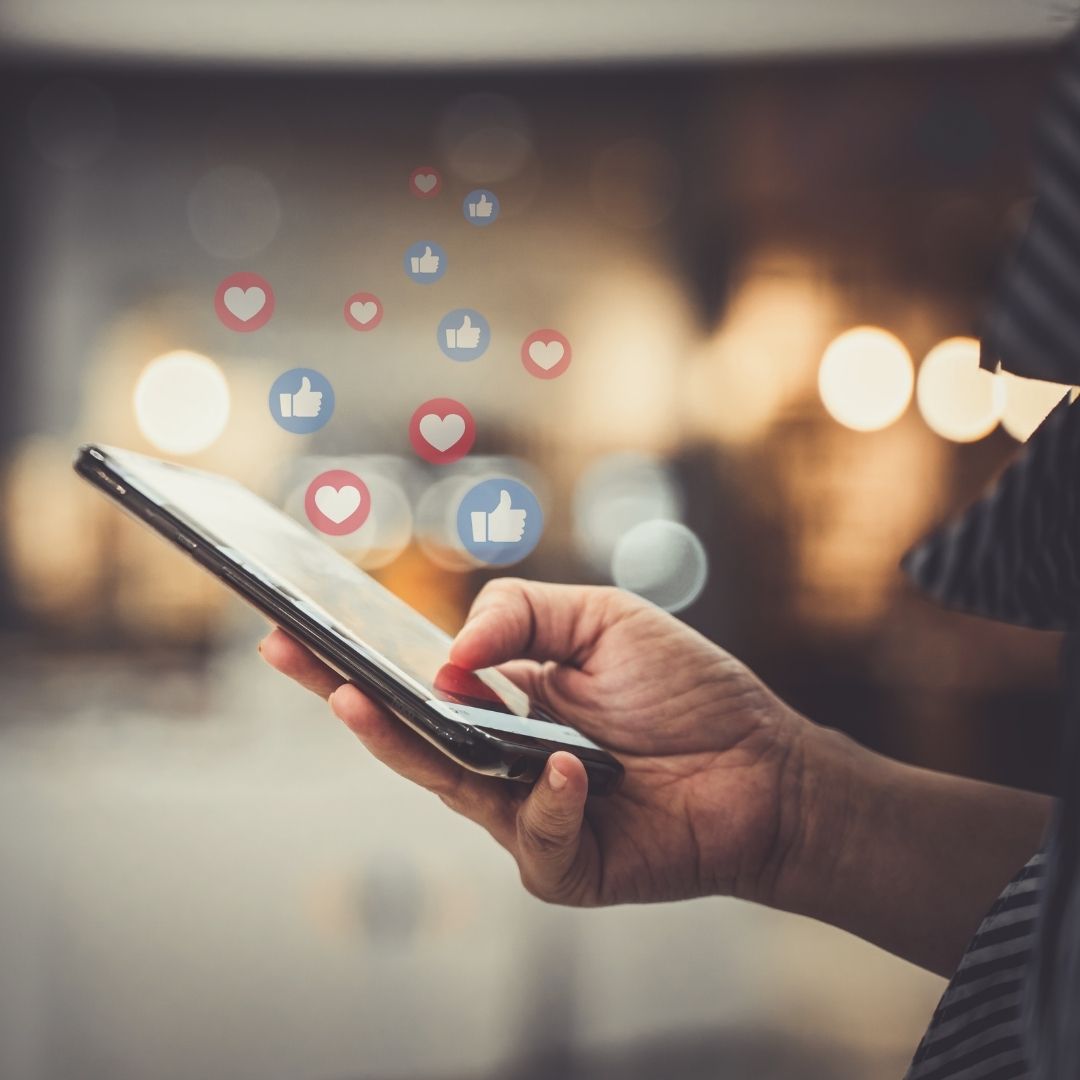 Your website will always be the core of your online marketing strategy. But another popular way to market yourself online is using social media. There are literally hundreds of social media accounts, but the most notable are:
Facebook
Twitter
Instagram
LinkedIn
Reddit
Others include Snapchat and TikTok, but those require a bit more advanced technique, so we'll focus on the easier ones.
Why Market Yourself on Social Media?
Social media is one of the only ways to humanize your business, helping you relate to your potential patients and brand yourself online. It's a chance to help people get to know you, both as a person and as a company, so that they not only trust you but feel they also have a connection with you both before and after they are patients of your business.
The best way to succeed on social media is to give your posts personality. Let people get to know you. Anyone can post on social media. But the best businesses are the ones that give people a reason to care.
Facebook
If you can only use one website for chiropractic social media marketing, it should be Facebook. It has the most robust tools to build a brand, and the easiest and most effective advertising system.
Start a "New Page" for either you as a doctor or your chiropractic company, whichever you prefer. Make sure you fill out all of the information you can that is relevant to your business, making sure that you have everything completed all at once.
Then all you need to do is post.
What you can post is up to you. The most effective tactics are useful information, humor, and "around the office" images and video – items that make your posts relevant to others.
It is strongly recommended you also invite anyone you can to like and follow your page. Friends, family, and past patients are the best individuals to invite – but the more people you can invite, the better.
That is because unlike other social media websites, Facebook is more of a closed system.
It's very hard for someone not following your page to find your page unless someone they know likes or shares something that you've written. If your page has no followers, then you essentially have no free way to get new likes in the future or gain any exposure. That's why it's so important to invite anyone you can. Even 10 people will make it easier to grow your business than 0.
However, Facebook is one of the only mediums where it makes financial sense to consider paying for advertising. Facebook has several ways to buy ads, but nothing is as useful and as cost effective as "boosting" posts.
When you make a post that you think is genuinely great, you have the option to "Boost" it, which essentially means putting it in the News Feeds of others as an advertisement that looks like a normal post. Boosting posts is one of the least expensive forms of marketing, and one that can have a substantial impact.
Notice, however, that we said "as an advertisement." That's because if one of those people likes or shares your post, their friends will also see the post on their own news feed, and you do not have to pay for those views. That means if someone with 1000 friends shares your post, you get 1000 more views for free.
Yet that's not all. If someone clicks any of the reaction buttons on your page ("like," "laugh," etc.), you can then invite them to follow your page, potentially increasing your follower count. Even if they do not click "yes," those that are invited to your page may still see your posts in the future, at least until they refuse the invitation.
You're getting ALL of those benefits for a $20 investment, and of course you are not limited to $20. Compare that to a $2000 magazine advertisement and it's easy to see why Facebook has become as popular as it has with advertising.
Twitter, LinkedIn, Instagram, and Reddit
Most other forms of social media are still useful, and worth looking into for yourself. Because these should be an extension of your business, you should choose the ones that best fit your personality and that of your company. But they are also a bit more difficult, with more expensive advertising and more complex needs to convert as well as Facebook.
Twitter – Twitter was once one of the most popular tools for building a brand. Over the past 4+ years it has become primarily a place to follow news and politics, but it can still be useful for communicating with both other chiros in the field, and past patients, to keep up relationships.
LinkedIn – LinkedIn is a bit more of a B2B tool than a tool for reaching patients, but it can be used similarly to Facebook and all of your Facebook posts can be placed on LinkedIn as well with no repercussions to your marketing campaigns.
Instagram – Instagram is owned by Facebook, and has many of the same advertising tools. It is an image-based social media site, requiring high quality images. That can be difficult for a chiropractor to make engaging, but if you're skilled at Instagram it can still be a great tool.
Reddit – Reddit is unlike other social media sites. It's a place people can provide useful, expert opinions on relevant topics. It's harder to find patients through reddit, but it is a useful way to get your name out there and potentially build a following you can use in the future.
Others – Sites like Medium allow you to write articles on topics of interest that can help your name get out there. As mentioned, Snapchat and TikTok can be interesting for those that want to try their hand at humorous videos, but most chiropractors find other chiro marketing tools to be easier.
You should strongly consider creating many of these social media sites and filling them with a post or two simply to lay the groundwork. But overall, Facebook is going to be your strongest social media for chiropractors.

Videos and YouTube
Every one of us live busy lives. There is content everywhere trying to capture our attention. While we may be on our phones and on our computers all throughout the day, the truth is that most people have very little energy to give to anything that doesn't immediately capture them. Most people are looking to reduce the amount of labor that is required for digesting content.
Which is why video is such an effective chiropractic marketing tool.
Video is the "easiest to digest" type of content available today. It requires very little effort on the part f the viewer, but provides the most information. If a picture is worth 1000 words, than video is worth at minimum 10,000, yet it doesn't require the viewer to read, scroll, or otherwise do any work in order to consume the material that they're watching.
It's why video, when used correctly, has perhaps one of the best payoffs of all forms of media.
You can use video in several ways:
You can upload the video on YouTube. YouTube is its own search engine, its own content link, and its own form of social media. Every month, users of YouTube watch over one billion hours of video, and that video can be not only viewed on YouTube itself, but also shared across other social media sites, websites, and even found in Google searches.
You can post the video on your website. Video can be used as your website header to draw attention, or as a tool to keep people on the page, or as a way for you to simplify complex topics. There are many ways to use video on a website that can help you capture more attention and gain more trust with the viewer.
You can use the video as an advertisement. Video can be used on Facebook ads, Google Ads, YouTube Ads, and across many other mediums. Unlike image ads and text ads, a person may view a video ad intentionally or unintentionally, and consume the information without even clicking a link.
These are only some of the many ways to use video online, and all of them are highly effective at helping potential patients learn who you are and potentially choose you to be their provider.
Adwords, PPC, and Other Paid Ads
There are many ways to market online that are both extremely effective and cost efficient. Chiropractor SEO, for example, has the potential to provide you with FREE leads and new patients once the initial work is done and successful, and while all marketing is theoretically ongoing, once you're ranked high in search you could theoretically stop marketing for a while and continue to draw in dozens, sometimes hundreds of new patients.
But one of the only problems with website marketing is that it's slow. You do not typically get to #1 in search overnight. Social media, even video – these tactics work, but they typically do not become big money making hits right away. For some chiropractors, the wait is simply too long.
That's where paid ads can be useful.
We'll focus on Google Adwords, which is Google's advertising tool, although there are other paid ads you can do, such as Bing Ads, Outbrain, and others. Paid ads on Adwords place you at the top of Google searches. The first 1 to 4 results when you make a search are typically paid advertisements for companies that use Google Adwords. Before you have even viewed one natural result, you've seen at least 1 to 4 ads that others have paid for. So if you don't want to wait for your website marketing tactics to kick in, paying Google directly to place your website at the top of search engines is another option.
Google Adwords – and most advertising sites – use what's called a "Pay Per Click" model. You only pay for your ad when it gets a click. It doesn't matter how many views the ad gets (known as "impressions"). All that matters is when someone decided to click on your ad.
The advantage of this model is you only pay when you get a website visit. Though it is not without its disadvantages. In order to show up first in Google Ad results, you have to "bid" more per click than your competitors. If someone bids $4.00 per click, and you bid $3.50, the person that bid $4.00 will show up ahead of you. That is not necessarily a bad thing, as you only pay per click, but it does mean that others may be showing up higher than you.
There are those that spend their entire careers studying the science of Adwords – more than can be placed in a page like this. But here are some tips for using Google Adwords effectively:
Expect to Lose Money at First – When you program your ads, you enter in key terms you'd like your ad to show up for. Google then decides what ads to show, and to whom. The problem is that sometimes it shows ads to those that are not relevant. For example, you might enter "car accident back pain" and it may show your ad to someone looking for a lawyer, not a chiropractor. You'll need to consistently refine your ads to make sure ads are relevant.
Clicks Are Expensive, So Plan a Budget Accordingly – In the field of back pain, one click can be somewhere between $10 and $35 depending on where you are in Florida. It generally takes between 10 and 100 clicks on a website to get a call. That may mean that you're spending $300 to $3000+ before you get one patient. As you refine your ad account, this will improve, but know that that's something that requires budgeting.
Create Multiple Ads – Google Adwords allows you to create multiple ads for your chiropractic marketing campaigns at no additional charge. Always design at least 3, if not more. The reason is because Google will show the ads that appear to be performing better more often, and in order to determine which ads those are, it needs many ads to choose from to get accurate data.
Try Different "Landing Pages" – A landing page is a page on your site that someone visits after they get a click. It's helpful to try different landing pages out with your ads to see which one gets you more calls. Rather than send people only to your home page, consider sending them to one of the other pages on your site to see if that provides better results.
Use Remarketing – One of the problems with Adwords is that, because it's pay per click, once that user that clicked on your ad leaves your site, they've become a lost investment. It's a one time payment. But Adwords has an interesting tool, known as remarketing. Remarketing shows display ads (picture ads) to anyone that has visited your site for a month or more. The cost for these ads is pennies compared to the cost of search ads. They can be complicated to set up, so speak to a Google representative for help.
Also, if you plan on running Adwords yourself, make sure that you consider going through an online training course to make sure that you're setting it up correctly. Some of the above tips may sound complicated, but that's because an effective Google Ads setup is complicated, so make sure you do your research first or speak with someone that can assist you with setup.
Other Online Marketing Methods
The above examples are only some of the ways to market yourself online, though they do tend to be the most effective. However, there are other strategies like podcasts, video tutorials, forums, and more that can all be used. These more advanced methods likely require a bit more experience with online marketing, but they are out there for those chiropractors that want to explore different options.
Chiropractic Advertising – Television, Park Benches, Billboards, Post Cards, and More
The internet is certainly one of the most popular places to market oneself, and arguably the most cost effective. But it is of course not the only one. There are many other chiropractic advertising avenues that you can take "offline," including:
Television Advertisements – These remain a great way to show a video to a wider audience.
Billboards and Visible Signage – Large and visible, chiropractic advertisements get noticed.
Magazine and Newspaper Advertisements – Hyper-local, magazine ads can reach your market.
Post Cards/Mailers – Chiropractic postcards marketing is a useful way to reach people's homes.
Fliers – Placed around the neighborhood, fliers are a low budget way to get your name out there.
One of the challenges with these types of marketing is that typically when a person gets injured or hurt, they need someone right away. Most of these methods are visible only at random times, and rarely when a person is hurt. You generally need to be "lucky" enough for someone to see your chiropractic ad the moment they're in pain, and that's far less common.
They also tend to require a significant investment. A magazine ad can be as much as $2000, and we showed earlier how chiropractic Facebook ads can traditionally reach far more people than a chiropractor magazine advertisement, and with additional benefits/uses.
But these chiropractor marketing ideas are useful for branding. Social psychology studies have shown that, when someone is exposed to your face or brand, they are more likely to trust you to handle their care at a future date. The science of branding does show that putting your face or info out there can make it more likely that someone will call you in the future and, in the case of tools like billboards on a freeway, there is always a chance that someone in need will call you right away.
So it is definitely worth looking into these other examples of advertisements, but in terms of cost-effective chiropractor marketing tips, online marketing is likely your best investment.
Networks and Building Relationships Locally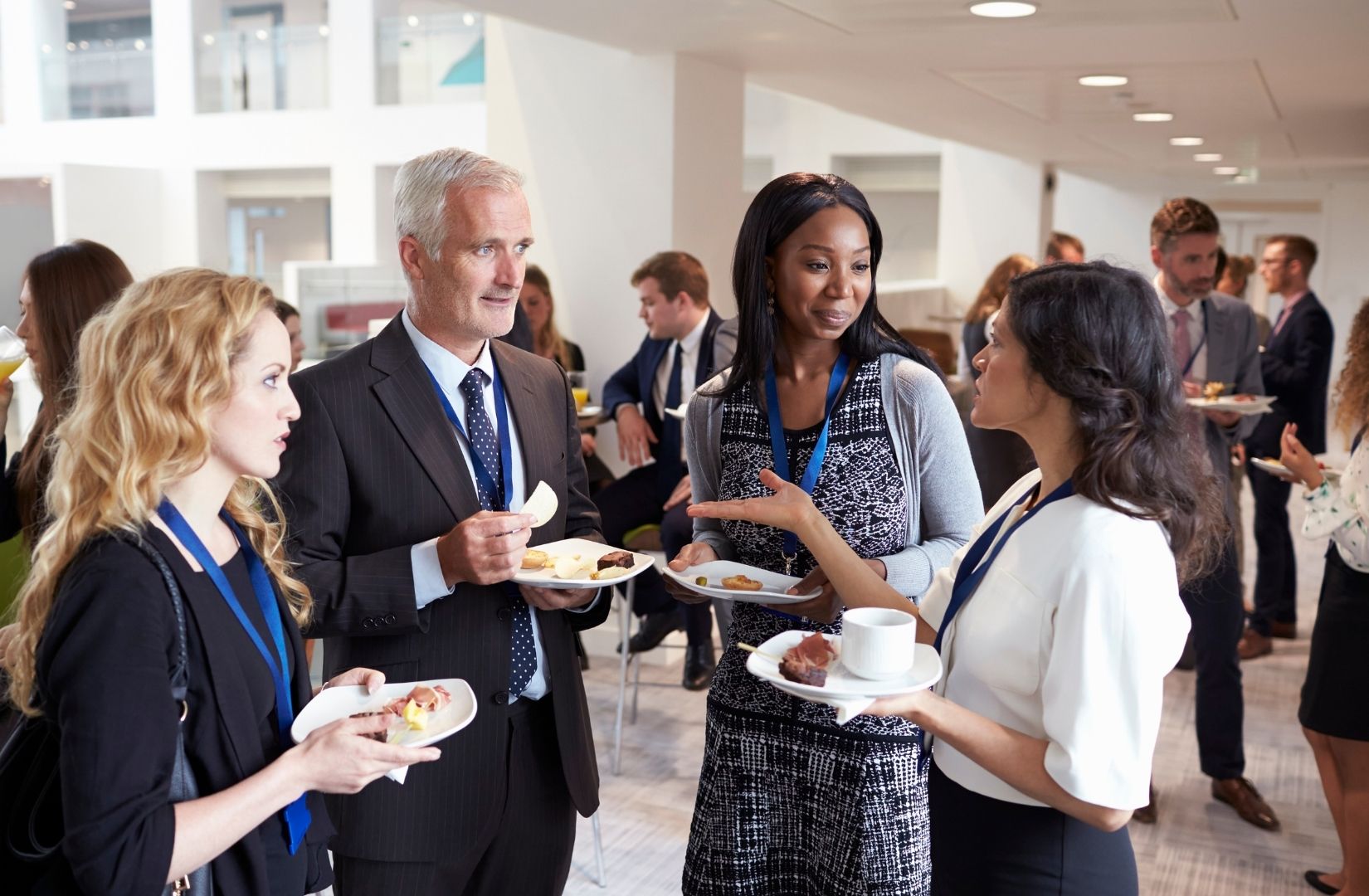 There's also a type of offline "marketing" that is so important in the chiropractic industry, especially, and while we haven't highlighted it yet, it is arguably one of the most important tools that chiros have at their disposal for obtaining clients, especially with limited investment.
Specifically, chiropractors that treat personal injury patients should try and develop strong, mutually beneficial relationships with personal injury attorneys, who have access to potential patients and who, on average, spend more on marketing and advertising than even the most aggressive chiro marketer.
Seasoned chiropractors probably already have seen the value that these relationships can have for their client list. But for those that are new to the industry, it's important to remember that chiropractors are not typically the first call.
In fact, before some patients even call a doctor, the first person they'll call is an attorney.
And because personal injury attorneys are the first call, the vast majority of them are unattached. That makes the attorney a referral resource for free, new patients that are guaranteed to be in need of immediate help. Finding ways to network and reach out to potential personal injury attorneys and developing that chiro/lawyer relationship is a great way to build a business. At TeleEMC, we can help you develop that relationship, as we have an easy to use chiro to lawyer referral service that gives you a chance to connect with multiple local attorneys and develop a mutually beneficial relationship. It's just another way we help chiropractors build and profit from their business.

Grow Your Business with TeleEMC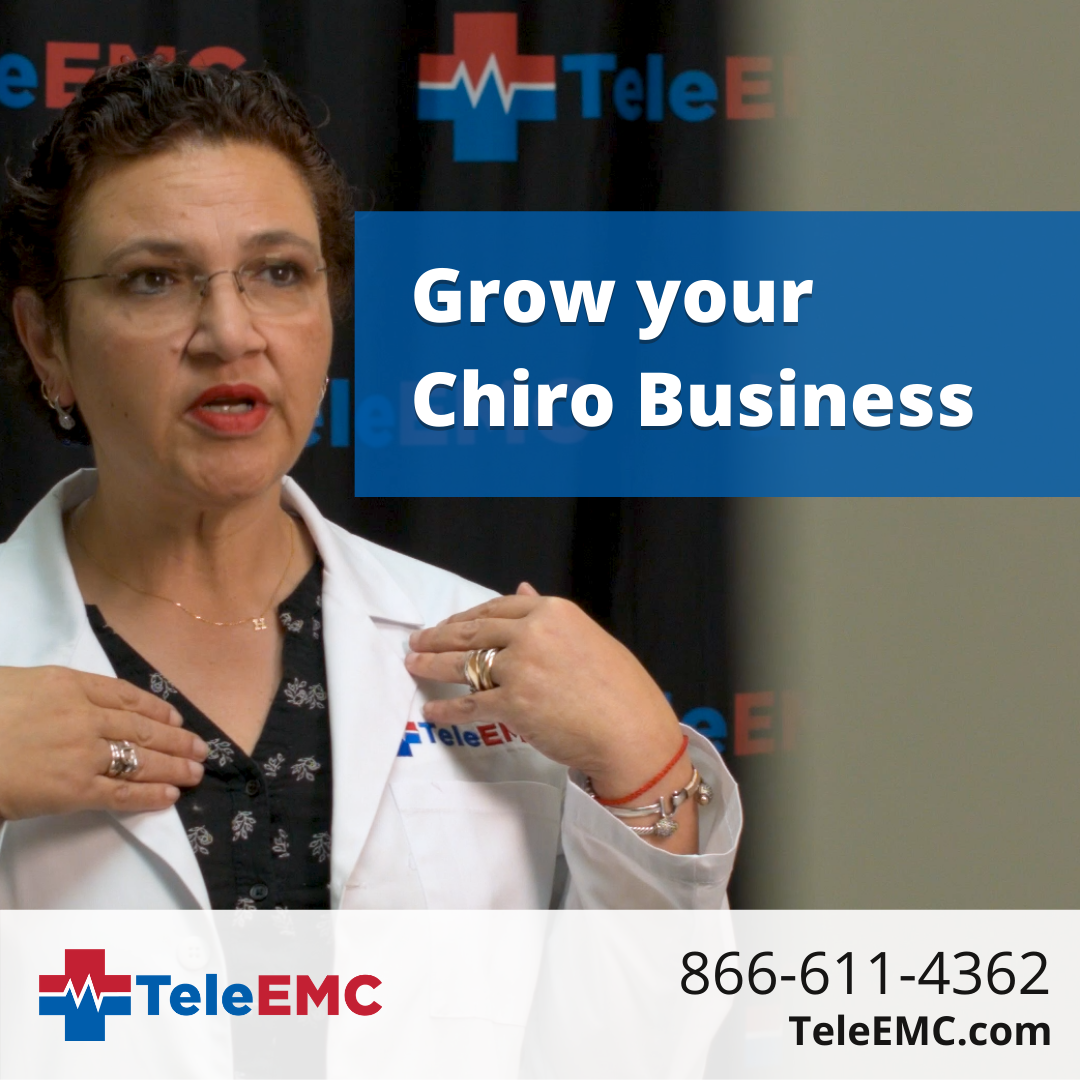 TeleEMC is not a chiro marketing company. If you're looking for a chiropractic marketing firm, we're happy to give recommendations, but we do not offer this service ourselves.
However, what we are is dedicated to your growth and profit, which is why we'd love to see you market yourself better, grow your business, and help stand out against others in the market.
TeleEMC partners with chiropractors in Florida, providing all-virtual appointments with EMC doctors for chiropractors in order to provide Florida PIP determinations fast, often with next day or same day appointments and all taking place online – even through your own office. 
Our EMC service is a benefit for patients, providing faster PIP insurance claim support and ensuring everything is completed in-house. It is also far more profitable for chiropractors, as it becomes a part of your business rather than forcing you to send then out to a third party provider and wait potentially days or weeks for an appointment and EMC/PIP evaluation.
Whether it's through the above chiropractor marketing tips, or through our EMC insurance claims service, we want you to succeed. Contact us today using the form below to learn more about our products and services, and how they can help your business profit and thrive.